Cafe Navarre is a cozy neighborhood restaurant in Mid-City in New Orleans that offers an AMAZING brunch but also a seriously fabulous dinner. Dinner options include pizza, sandwiches, salads and endless wine and mixed drinks.
Wanna try them out? Visit http://cafenavarre.com/
---
---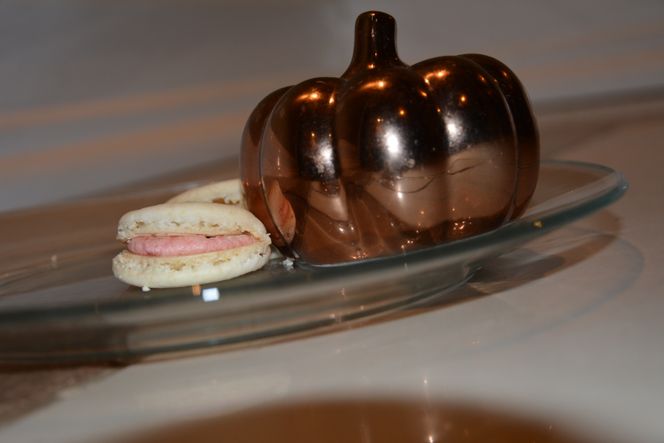 Grey Bird Baking Co. is a new local company in New Orleans, specializing in macaroons and baked goods. The owner and founder, Taylor found her inspiration and passion for baking from memories of watching her mother make homemade cheesecakes.  While she does create cakes and other various baked goods, she is currently specializing in creative macaroons. I had the pleasure of trying the strawberry rose' macaroons and they were AMAZING!!!!!!!!!!!! Sweet, flavorful, fresh and crunchy... these macaroons were off the chain!!!!  
Follow Grey Bird Baking Company on Instagram @greybirdbakingco and order your yummies today!
---
Join me as I venture off to The Vintage on Magazine Street and try the amazing beignet flight!!!!!
Captured by @captivatingimagesllc
The Vintage Nola is located at 3121 Magazine Street.
---
---
---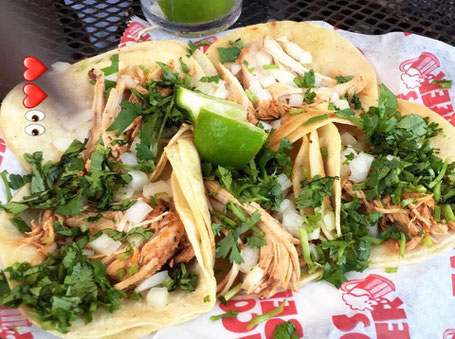 National Taco Day Deals and Steals
October 4th, 2018
It's the most magical day of the year!!!!! National Taco Day is happening NOW and here are my favorite pics to celebrate this glorious occasion.
Felipe's: Various Locations
FREE Taco with Purchase
Johnny Sanchez: 930 Poydras Street $2 Taco Happy Hour, 2-6pm
Taco Bell: Various Locations, 4 tacos for $5 dollars
Cold Stone Creamery: 1130 S. Clearview Pkwy. Ice Cream Waffle Tacos, Today Only!
Agave House: 2549 Banks St. Two for One Tacos
La Cocinita: 234 Loyola Ave. $2 Street Tacos
Anything missing from this list?
Email us at fatgirlnola@gmail.com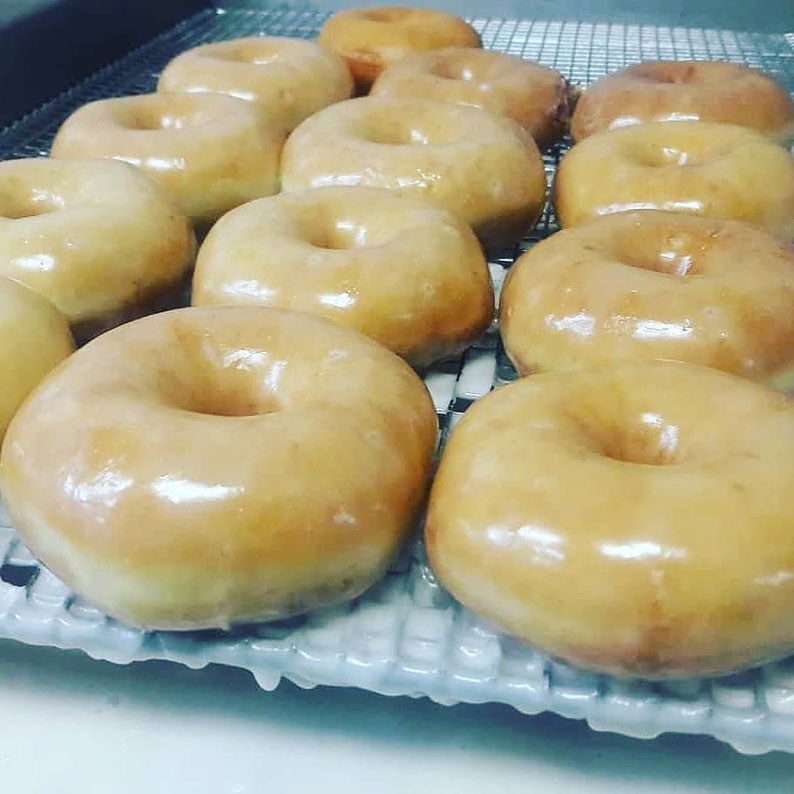 Located inside of the Circle Food Market in New Orleans, Dough to Dough offers up vegan specialties including poboys, donuts, pizza and salads. The staff is friendly anf helpful and answers any questions that you may have pertaining to their menu items and special requests.
The Food:
We tried the vegan glazed donuts and the AMAZING vegan cheeseburger.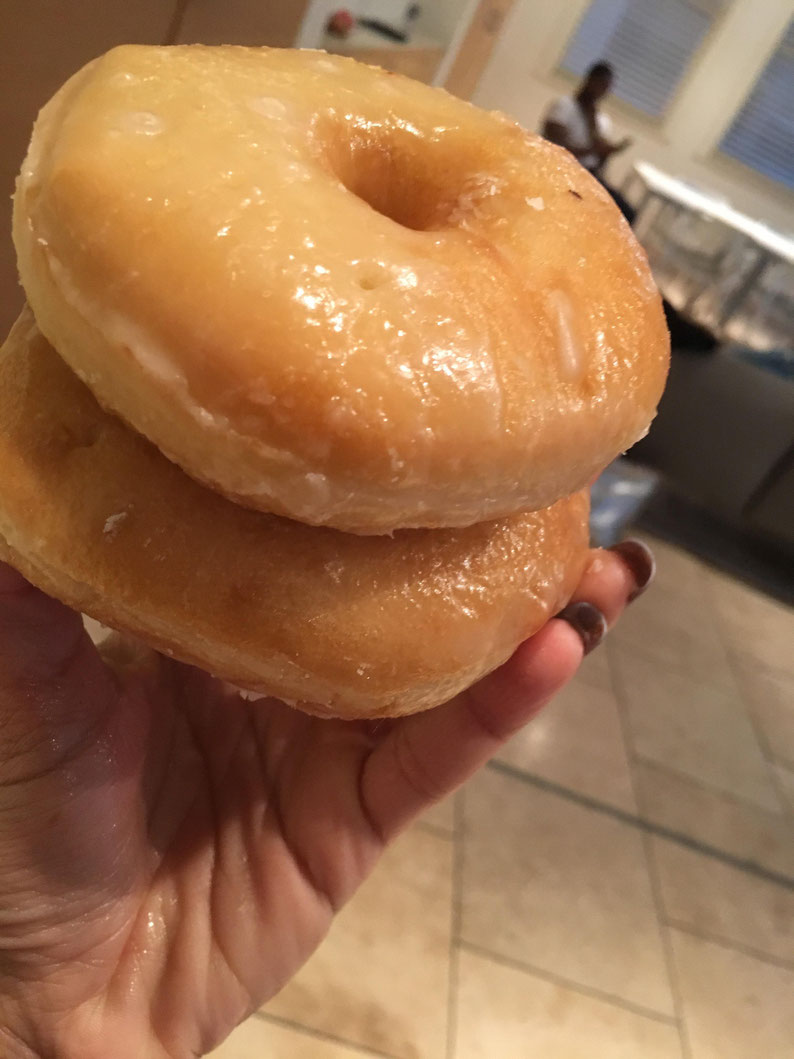 The donuts were soft and buttery, with a few obvious differences from its non-vegan cousin. I noticed that these weren't as fluffy as your average donut, but it actually made the donut more enjoyable. The first bite immediately melted in my mouth and it was gone in about 20 seconds. Soft, Sweet, Buttery. Heck. Yes.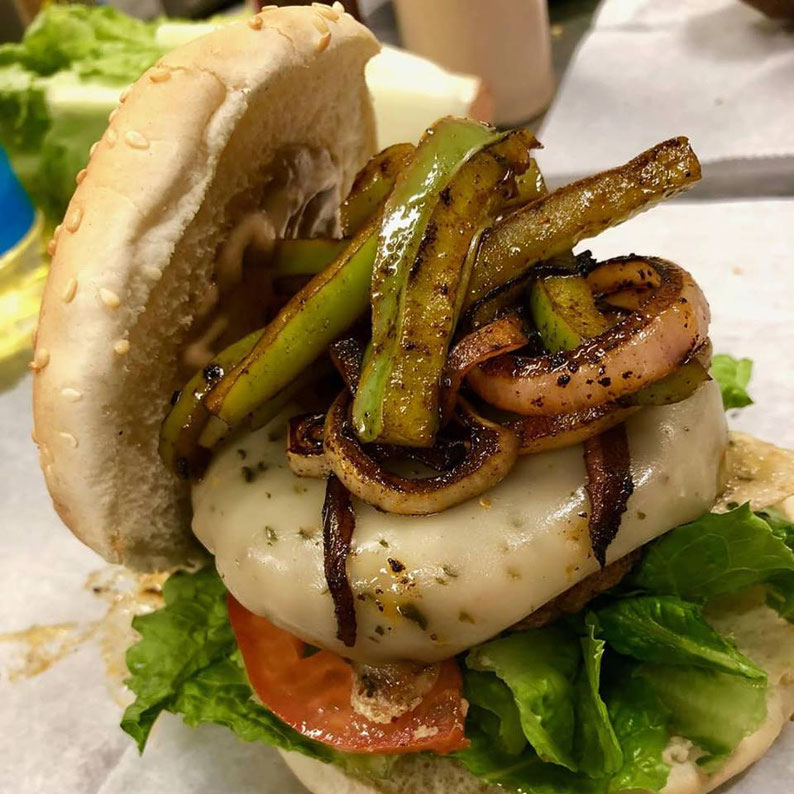 The Burger. When I bit into this burger, I had to remind myself that it was indeed plant based.
It was a tender, juicy patty packed with protein and an amazingly savory, smokey flavor. This burger actually was better than most beef based burgers and was just as satisfying. Oh, and you can totally ask them to put the patty on two donuts. 
Where: 1522 St Bernard Ave, New Orleans, LA 70116
Hours: 9am-7pm
Alto Rooftop Garden and Grill, Ace Hotel New Orleans. 
---
Spicy Crawfish and Shrimp Tacos.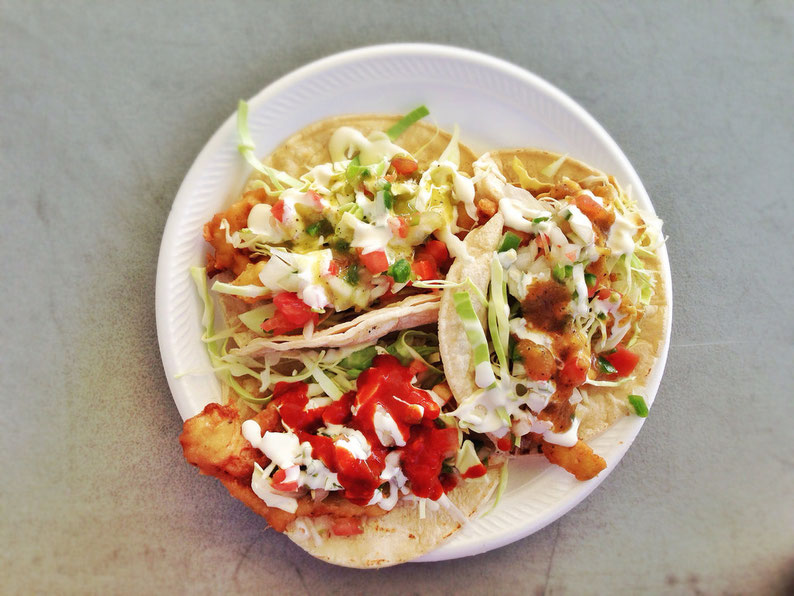 So. We loveeeeeeeeee tacos, and outside of swimming pools, sangrias and suntan lotion, tacos are one of the best ways to cool down during the summer time. We've tried all kinds of taco recipes from fried fish, to oysters, and even meatballs!!!!! So this time, we decided to turn up the heat and cool down with these amazing spicy crawfish and shrimp tacos.  We marinated crawfish tails in sriracha sauce, and grilled our big juicy shrimp in a spicy garlic sauce to make something truly special. Check it out!
(makes about 8 tacos) 
Ingredients:                                                                         
8 flour tortillas
1 chopped whole tomato
2 pounds of peeled gulf shrimp 
2 pounds crawfish tails 
3 Tablespoons chopped red onion
2 tablespoons of chopped green onion.
1 tablespoons of salt
1 Tablespoon of ground black pepper
3 teaspoons of chilli powder
3 fresh chopped habanero peppers
1 tablespoon of chopped cilantro
2 tablespoons ranch dressing
1 tablespoon of mashed avocado
Fresh coleslaw/ cabbage mix
2 fresh jalapenos
2 tablespoons of canola oil
Directions:
Place crawfish tails in a small bowl and add sriracha and set to the side. 
Place oil into large sauce pan and add shrimp.
Add Salt, Chili Powder, Black Pepper and habanero peppers.
Stir shrimp and  all ingredients until the shrimp turns pink. 
Add in Crawfish and stir together for ten minutes.
Plating: 
spread mashed avocado on tortilla and add shrimp, crawfish, and then top with coleslaw, red onion, tomato, green onion and drizzle with ranch.
For an extra kick, add more habanero peppers to the seafood mixture!
Yummm. Slay. Eat. Play. 
NEW ORLEANS-BORN ARTIST LAUNCHES CAJUN RESTAURANT IN L.A. RESTAURANT 
Read at: https://webuyblack.com/blog/james-mcclue-new-orleans-restaurant-in-la/
slay.eat.play.
---
The Recipe Chronicles:
Brownie Pancakes A La Mode' 
Did we mention how much we love chocolate?
Yes.
Chocolate is life.
While we also love and adore the concept of brownies a la mode (with ice cream), we wished there was a way that we could have it for breakfast. And behold, brownie pancakes a la mode were born. These fluffy but crunchy vanilla pancakes are topped with fresh moist brownies, vanilla ice cream and hot fudge sauce. Yum. Wanna try it out? Here is the super easy recipe:
Pancakes:                                                                 Toppings
2 cups all-purpose flour.                                           Trader Joe's Sea Salt Fudge Brownies (or whatever damn brownies you want)
1 tablespoon sugar.                                                 1/2 cup Condensed Milk
1/2 teaspoon baking soda.                                      1/2 Milk Chocolate Bar (Any Brand)
1/4 teaspoon salt.                                                    Vanilla Ice Cream (We prefer non-dairy :) ) 
1 vanilla bean.
1 1/2 cups vanilla sweetened almond milk
2 large eggs, lightly beaten.
Canola Oil. 
How You Make It:
Combine all pancake ingredients and set mix to the side. Pour about three tablespoons of canola oil into a warm skillet and allow the oil to slightly bubble. Then pour batter into the pan (pancakes can be any size). Let pancakes cook until the edges are crisp and set to the side. In a small sauce pan, melt down the milk chocolate bar for two minutes and add condensed milk. Place Brownies, Ice Cream and Choclate Sauce on top of pancakes and enjoy!
Any Questions? Hit us up at fatgirlnola@gmail.com
You're Welcome!
XOXO Fat Girl Nola.
Restaurant Spotlight: Dee's Coffee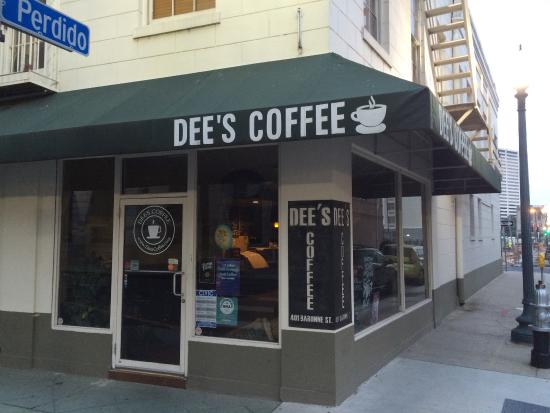 This bomb ass coffee shop and cafe is nestled in the heart of the CBD of New Orleans and does not disappoint. We discovered this shop last year and had to give them some shine. This family business was started Dec 26. 2011 the day the owner Dee, moved back to New Orleans from Brooklyn. They opened on Jan 31, 2011 and have been killing the coffee game for seven years now.
When you first enter the shop you are greeted by Dee herself, who is a one woman powerhouse, managing the daily operations of the shop and also preparing all of the savory foods and ridiculously perfect drinks.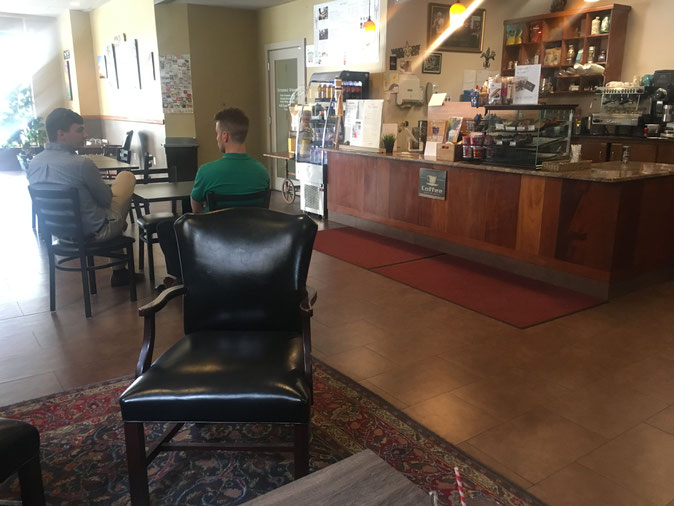 The cafe' also features some pretty amazing pastries and savory meals that include avocado toast and bagel and lox, carefully handcrafted by Dee herself. 
---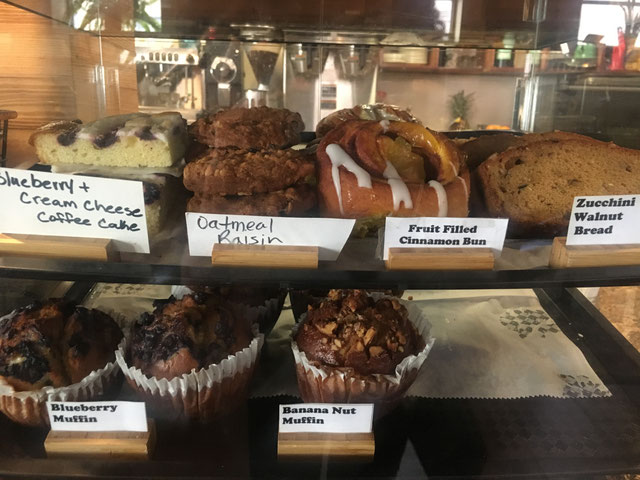 The drinks are simply amazing. The locally roasted coffee and unique tea and juice concoctions are what truly make this place stand out. We tried the most popular drinks from Dee's and here are our recommendations: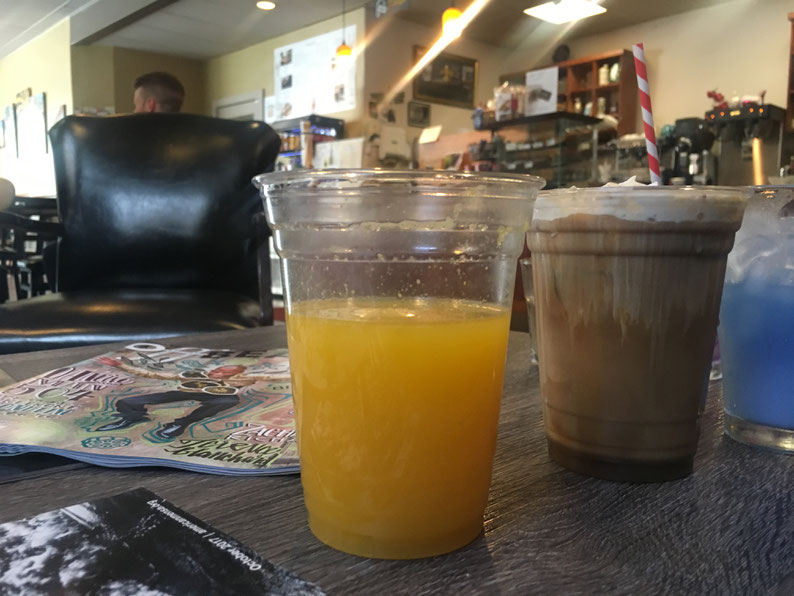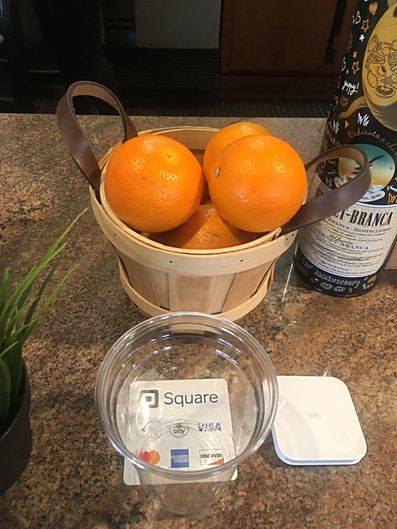 When you order the juice, you immediately receive a small basket of fresh oranges. Then, you are instructed to head to the juicing machine.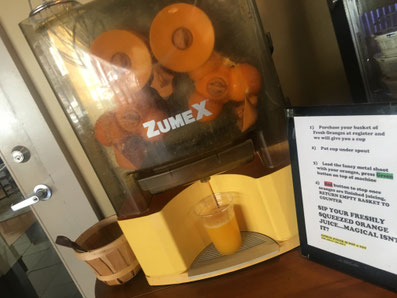 You then drop the oranges down into the machine and out pours the dreamy orange juice that is like no other. You may have had orange juice before... but TRUST US... you've never had it like this.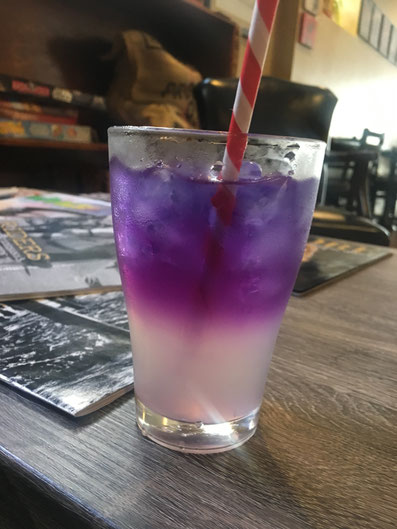 This tasty creation is made with a freshly squeezed lemonade that is then topped with a secret color concoction that make the drink magically change color before your eyes. It is a refreshingly sweet but tart lemonade that is easy on the eyes and tasty af on the tongue.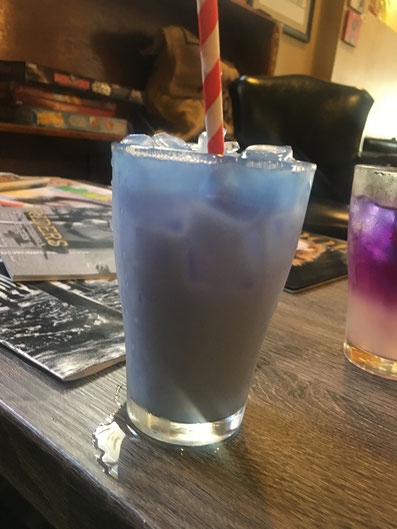 FAT GIRL FAVE!!!!!
This super secret tea concoction is amazing and tastes like a creamy berry pina colada and is perfect for those who like the refreshing ingredients of juice or tea, but love the creaminess of coffee.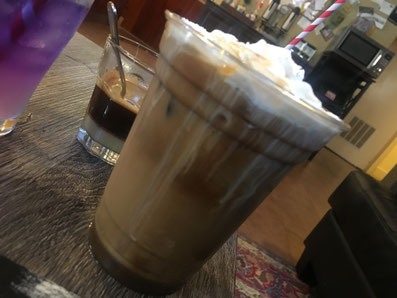 This iced coffee concoction literally tastes like a caramel macchiato  and mocha had a love child.
Amazingly rich coffee layered with caramel and topped with whipped cream...What's not to love?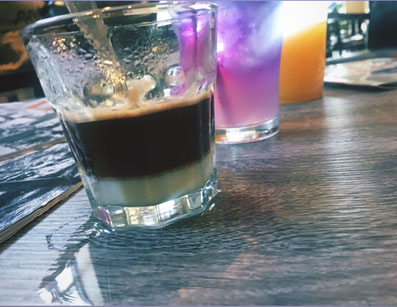 If you loved Vietnamese iced coffee, which is a very strong brewed coffee with condensed milk. This version is served hot and is layered with hot espresso and creamy condensed milk. It's a warm, creamy burst of flavor that will keep you running allllll through the day.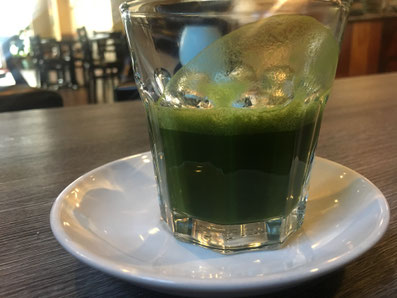 This is a refreshing warm tea, with an amazing preparation process, or "ceremony" as Dee likes to call it. Great for those that love plant based drinks.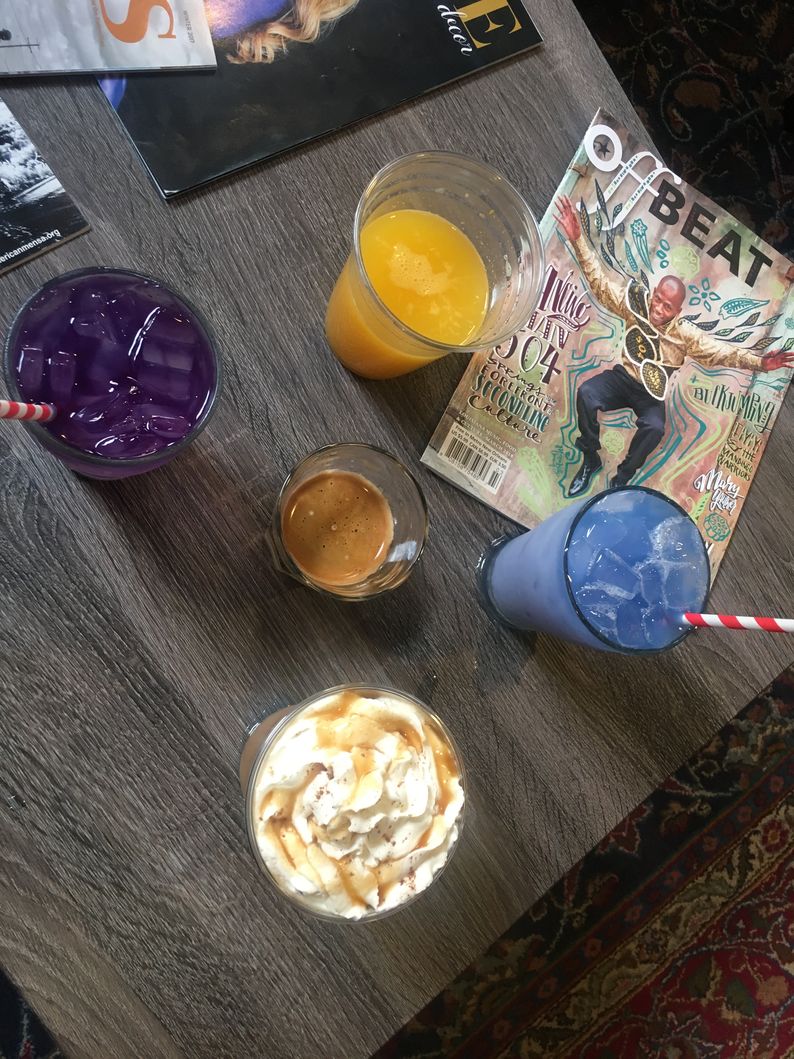 If you are in the New Orleans area and want some bomb ass coffee and good vibes, go visit Dee's Coffee at 401 Baronne Street in the CBD area of New Orleans.
https://www.deescoffeenola.com/
IG: @deescoffeenola
Slay. Eat. Play.
xoxo
---
FatGirl Nola Presents: The Fish List
So in New Orleans, Lent is a big deal. Whether you are Catholic or not, almost everyone is eating seafood on Fridays, which ia 
a part of the Lenten tradition forty days before Easter. Therefore, we complied a list of our favorite places to get fried fish plates on Fridays in Nola.
Where: 1443 North Robertson Street
What to Get: The Seafood Stuffed Potato with Fried Catfish.
Rating: Get it. and eat the whole thing, and dont share it. 
We Dat Chicken and Shrimp 
What to Get: Loaded Fries With Fried Shrimp and Catfish.
A bed of fried Drizzled with Ranch Sauce and Crushed Red Peppers
topped with fried shrimp, and add a Catfish Filet.
Rating: Yes. Yes. Yes. The shrimp are crispy as hell and the fries are crispy and well seasoned. Hell Yeah!!
Where: 5000 Gentilly Blvd.
What to Get: Fried Fish and Shrimp over crawfish pasta.
Rating: It speaks for itself. Hell Yes.
Carmouche's Rock Bottom Lounge
Where:
3801 Tchoupitoulas St.
What to Get: FREE. FISH. PLATES.
Rating: Buy a drink. Get free fish. All good vibes.
Where: 3600 St. Bernard Ave.
What to Get: Grilled Catfish and Shrimp Stir-Fry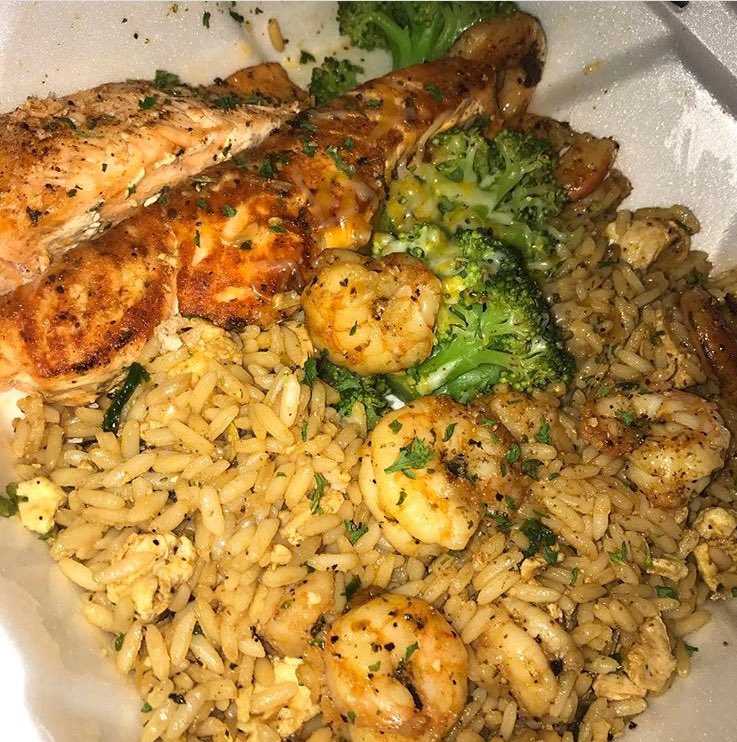 Rating: Full of Flavor and we loved the grilled take on this dish.
Where: @javlevelsup on Instagram
What to Get: Grilled Salmon and Shrimp Pasta.
Rating: Made to Order, Tender Salmon. Yes. Yes. Yes.
---
---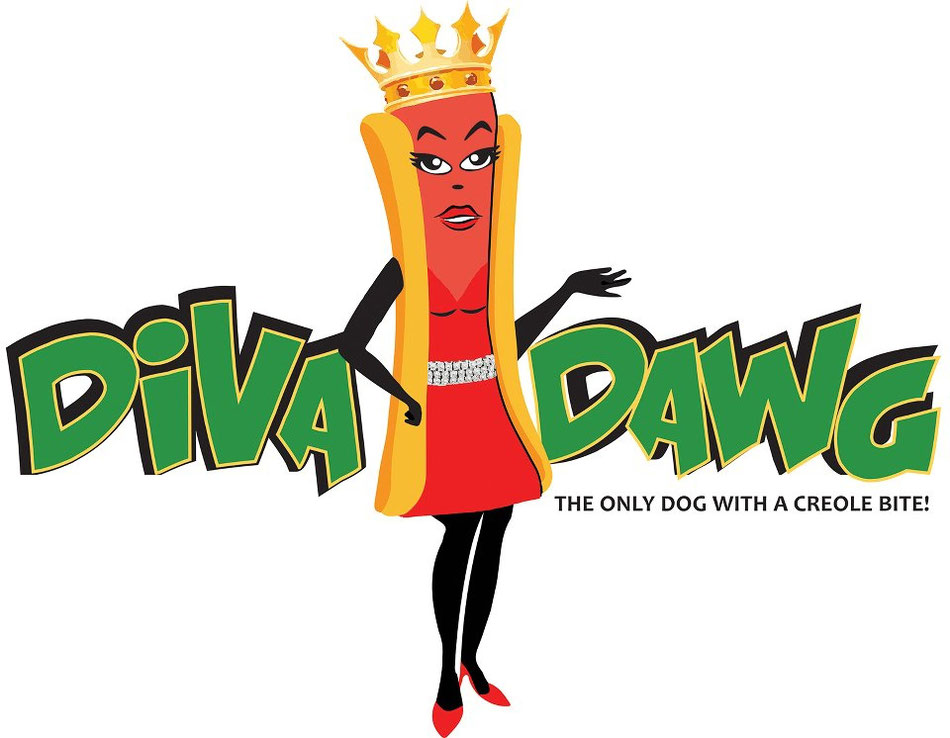 Our Honorary FatMan, Fireman Josh, recently had the opportunity to work as a cook on the Diva Dawg Food Truck in New Orleans, LA.
Diva Dawg food truck is the first and only hot 'dawg food truck in New Orleans which features gourmet creole style hot dawgs. They have a signature all beef creole hot dawg called the 'Diva Dawg' that is paired with a sweet and savory bun and creole New Orleans toppings. They  are also the  home of the original Red Bean Chili dawg topped with fried chicken, Étouffée fries with crawfish, Crabmeat grill cheesy and Praline Candy Shake. (from nolafoodtrucks.com)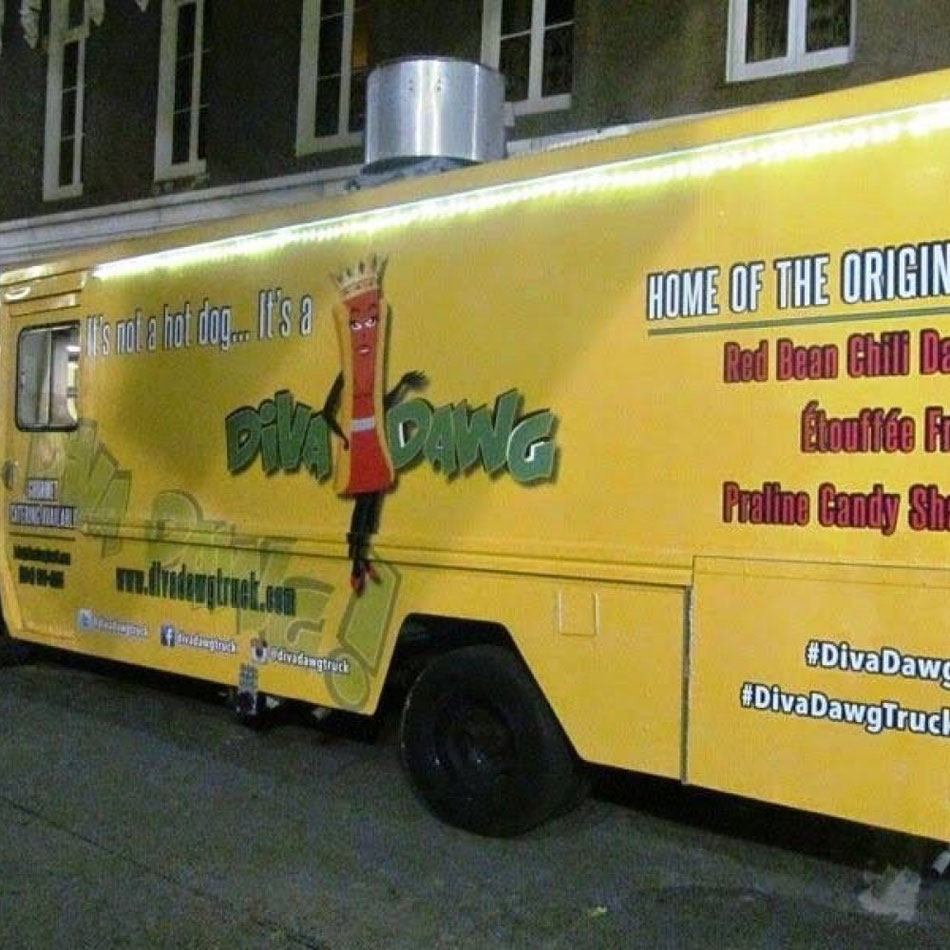 Fireman Josh Makes the  Famous Red Bean Chili Dog
Ericka 'Chef Diva' Lassair is a New Orleans native and Founder of Diva Dawg Food Truck that graduated from Southern University in Baton, LA and Delgado's Culinary Arts.
 She appeared on several local and national programs, and in July 2017 she and the truck will appear in the new movie "Girl Trip."  Ericka is currently a 2016 Tory Burch Foundation Fellow and was featured in the January 2017 Vogue issue, AWE Book & Cosmopolitan's "Get That Life." (essence.com)
You can find out more about Diva Dawg at the following:
Website – Divadawgtruck.com
Email – info@divadawgtruck.com
Instagram – @DivaDawgTruck
Facebook-  Facebook.com/DivaDawgTruck
Twitter – @divadawgtruck #divadawg #divadawgtruck
divadawgtruck@icloud.com
You're Welcome.
#slayeatplay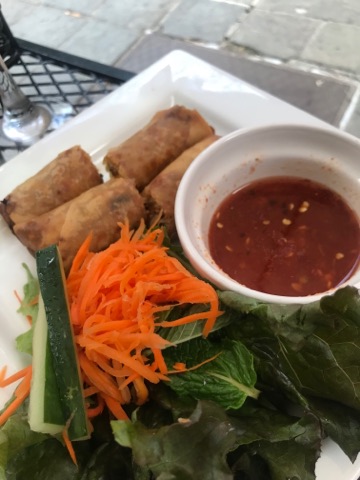 We met with Lyndsey of chillconceptss.com to discuss the origins of Fatgirlnola and food of course!!! Look out for the full feature on chillconceptss.com, but for now enjoy this mini-vlog and review of Nine Roses in New Orleans, LA! 💋
You're Welcome.
---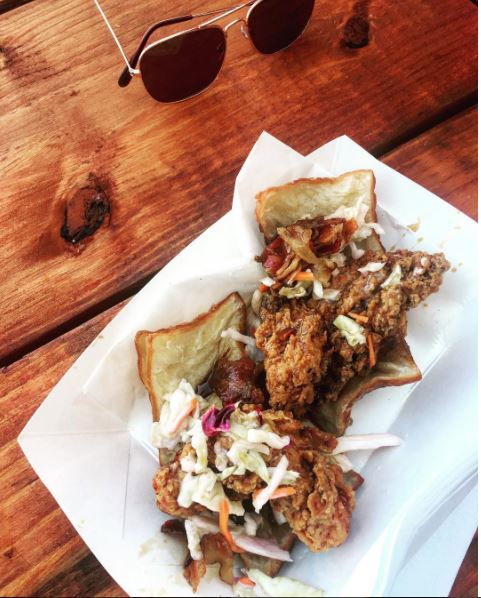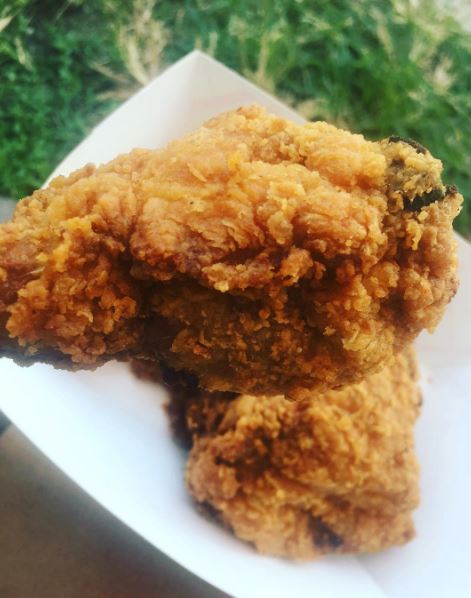 Dunbar's (New Orleans,LA) -Fried Chicken w/  Jalapeno hush puppies. Buttery, Crispy Goodness.
And in Our #ISSANO catergory..... the creative but odd Fried Chicken Praline. Roux Bistro (New Orleans,LA)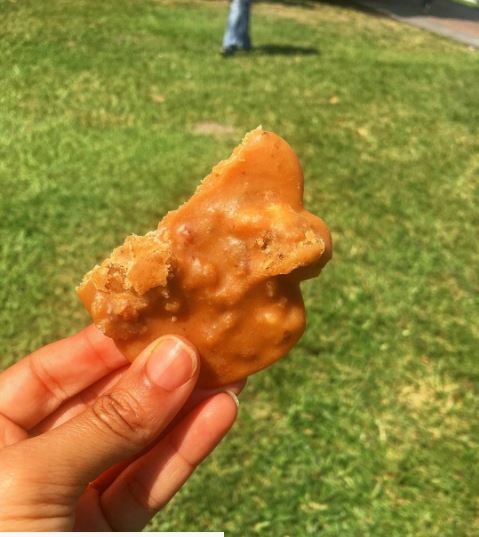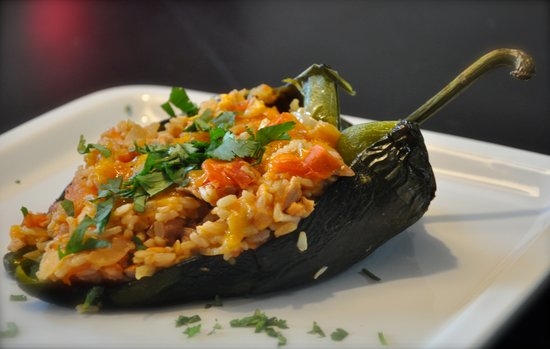 We love stuffing things. Peppers, Crepes, you name it.  We needed a quick lil' late night food fling and this hit the SPOT. Issa stuffed chicken and shrimp poblano pepper served piping hot and juicy. So if  you are ever in the need for a quick fix... here's the recipe.
INGREDIENTS
4 large poblano chiles

2 medium tomatoes, chopped

1/2 medium white onion, chopped

1 large clove garlic, chopped

1 tsp. dried oregano, crumbled

1 tsp. ground cumin

Kosher salt

1 Tbs. olive oil

2 cups shredded cooked chicken, preferably dark meat

2 pounds of peeled shrimp

1-1/2 cups cooked brown or white rice

2 cups grated sharp or extra-sharp white cheddar (about 7 oz.)

1/4 cup chopped fresh cilantro (including some tender stems)

1 Tbs. lime juice
DIRECTIONS
Position an oven rack about 4 inches from the broiler and heat the broiler on high. Line a large rimmed baking sheet with foil.

Slit the chiles from stem to tip and set on the baking sheet. Broil, turning every few minutes, until blackened all over, 5 to 8 minutes. Let cool slightly, peel off the skins, and cut out the seed cores, leaving the stems on. Turn the chiles inside out, flick out any remaining seeds, and turn right side out. Return the poblanos to the baking sheet.

Over medium high heat in a large skillet, add olive oil. Sauté onions and garlic until fragrant. Add the chopped tomatoes, cumin, and oregano. Let the tomatoes soften for a couple minutes and use a wooden spoon to break up the tomatoes. Stir frequently until most of the liquid has evaporated and mixture looks thick and pulpy, 8 to 11 minutes.

Remove the pan from the heat. Stir in the chicken, shrimp and rice, and then 1 cup of the cheese, the cilantro, and the lime juice. Season to taste with salt.

Divide the filling among the peppers, wrapping the sides of the peppers up and around the filling, some of which will still be exposed.

Broil the peppers until the cheese is melting and the top is beginning to brown, about 4 minutes. Top with the remaining 1 cup cheese and broil until the cheese is completely melted, about 2 minutes.
---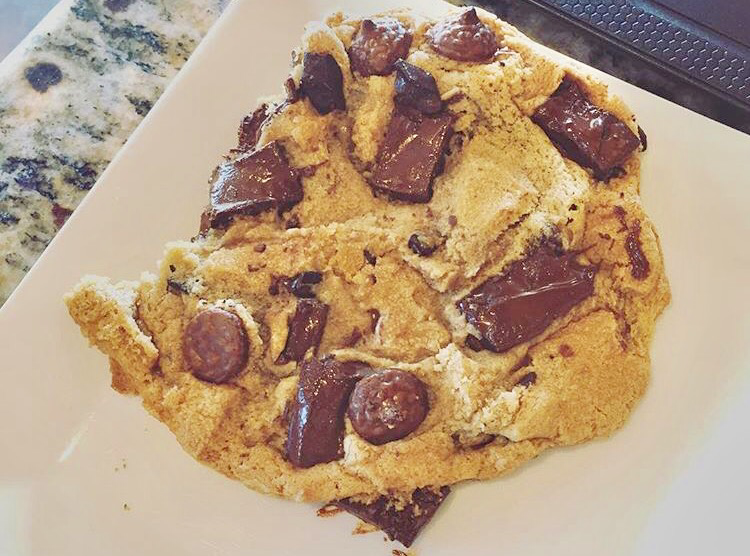 You remember your first time. Awkward, weird, possibly messy. Maybe not so bad, but not enough to make you want to try again. You know... your first blog post! Wait....what did you think we were talking about anyway?!??
Welcome to the deliciously sexy world of fatgirlnola, where we take your taste buds on culinary adventures unlike anything the world (or dat mouf has seen before).
So how do we pop our food blog cherry? That's right... with chocolate. Chocolate has come a long way to become the tantalizing treat that we all know and love today. Did you know way back when, chocolate was actually a very bitter drink used in Central America for its strengthening and aprhodisiac effects?? One of those things DEFINETLY hasn't 
 changed, but  what has is the way we consume and use chocolate... as food of course  😏.
This buildup and historical context is so necessary for the specimen that slowly melted upon my lips, known as the double chocolate chunk cookie.. anything else would be disrespectful.  When I first ordered this cookie... I didn't expect for it to be so........big. It was served warm and covered in tiny sugar crystals that screamed "eat me, eat me".  Upon biting into it, my tastebuds were met with a sweet, bitter, soft, salty and butterscotchy party that made for a very sweet but not overbearing cookie. As I continued deeper and deeper into this chocolate chunk wonderland, I then realized.... this thing has THREE different kinds of chocolate. THREE!!!!! Semisweet, dark chocolate and milk chocolate. I couldn't. I almost shed a tear after taking the last bite because it was over. This thing was like meeting the dark chocolatey gawd of your dreams, only to discover that he's only here on holiday and has an entire family AND a damn dog. But anyway... you can get this heartbreakingly ridiculous monstrosity from any CC's Coffee Shop in the New Orleans area and beyond. Our favorite is the little Uptown NOLA location.. located at 900 Jefferson Ave.
Youre welcome bae. 
-fatgirlnola.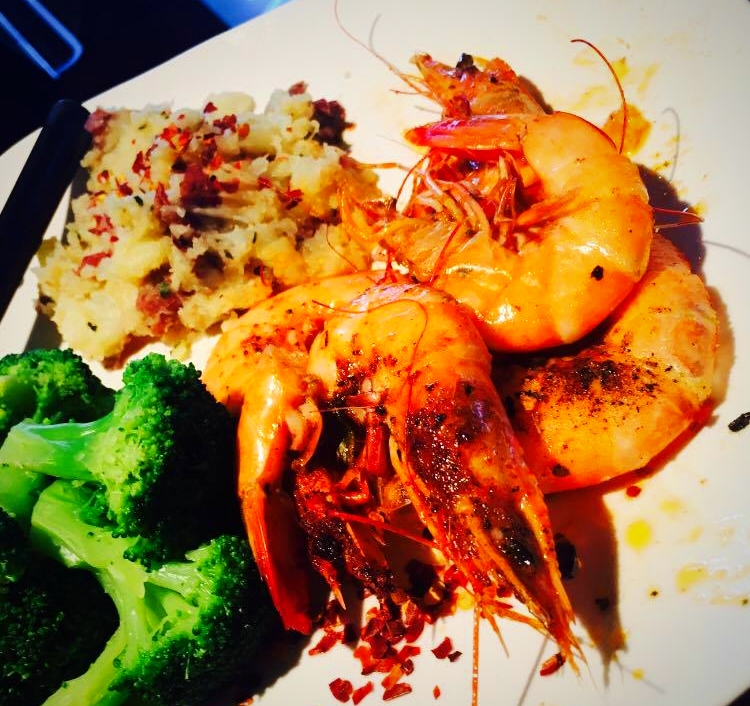 So let's say there's this guy (or girl) that you are really digging. You do everything right to impress them, you're looking good, smelling right, making them laugh at things that really ain't funny but you know they are doing it because they like you. Now imagine revealing to them that you can cook... and they swoon at the prospect of having your fine supple behind whipping up a hot steamy fragrant banquet of love. 
But... what if you lied... and couldn't cook, but you knew that this would be the only way to get into your MCM or WCW's heart. While we won't speak to the moral code of this you scandalous scammer..we'll help you and be the accomplish to your pseudo culinary rendezvous. Boom. Here's the recipe for Big Ass Shrimp, aka BBQ shrimp, with a twist. If you've live in, or have ever been to New Orleans, the thought of BBQ Shrimp envokes buttery, garlic, spicy goodness with notes of rosemary and ground black pepper. If not, you are probably wondering, "why in the hell would anyone BBQ a shrimp??" Still, we got you.
This recipe was actually created for a past bae, who loved to eat and had affinity for buttery, spicy seafood. So here's how you slay these shrimp.
Ingredients:
Two pounds of Gulf Shrimp, shell on (preferably never frozen, sized 21/25)
2 sticks of Unsalted Butter 
1 cup of chopped green onions
4 tablespoons of Worchestchire sauce
2 tablespoons of sea salt
2 tablespoons of ground black pepper 
2 tablespoons of ground red pepper
2 tables
spoons of Paprika 
3 tablespoons of Tony Chachere's Spice n Herb Seasoning.
Add 3 tablespoons of cayenne pepper
Crushed red pepper to taste
Place unpeeled shrimp in a large bowl and rinse throughly with cold water.
Place cleaned shrimp in a large glass pan and cut butter into small squares and place evenly around the pan. Cover shrimp with all ingredients and sprinkle in green onion. Bake at 350 for 30 minutes, until shrimp is pink and the butter is fully melted. Plate and serve with French bread or baugettte and enjoy!!!!! And if you did lie about knowing how to cook, just come back here and use us as your accomplice in your Psuedochef shenanigans.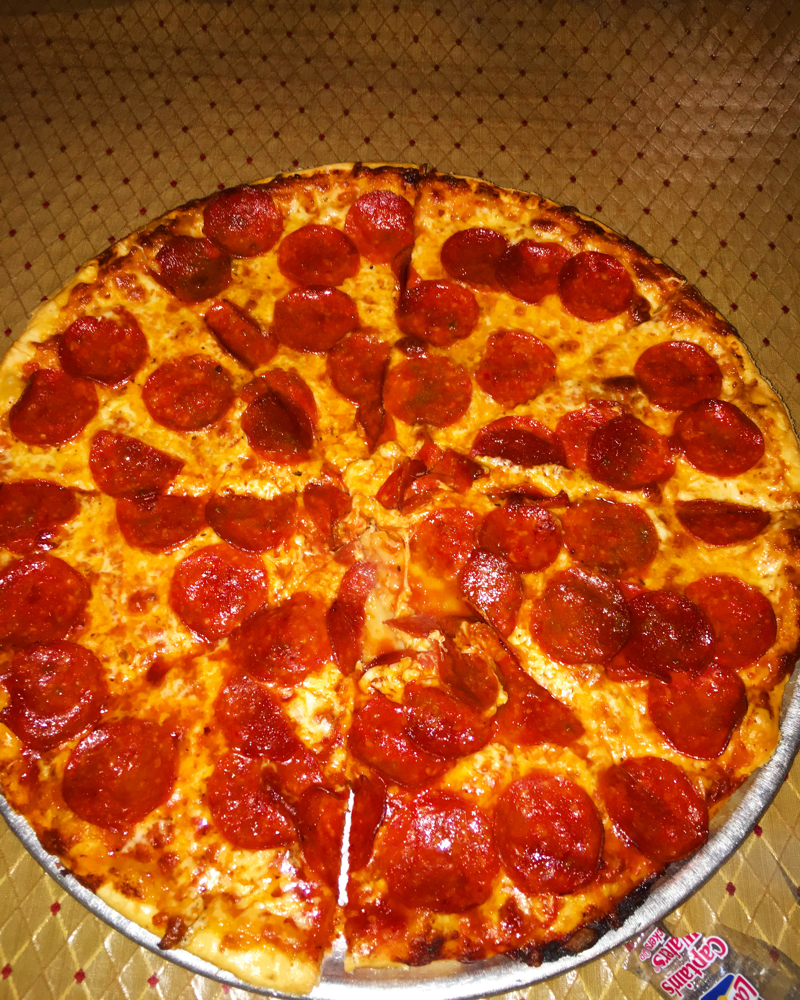 We.Love.Pizza.
So it wasn't that hard to decide where to spend our sexy Friday night with bae... we needed a quick foodie fix.
Theo's Pizza on Magazine St. in New Orleans is a quaint little walk up service Pizza joint, featuring daily specials and GIANT PIES.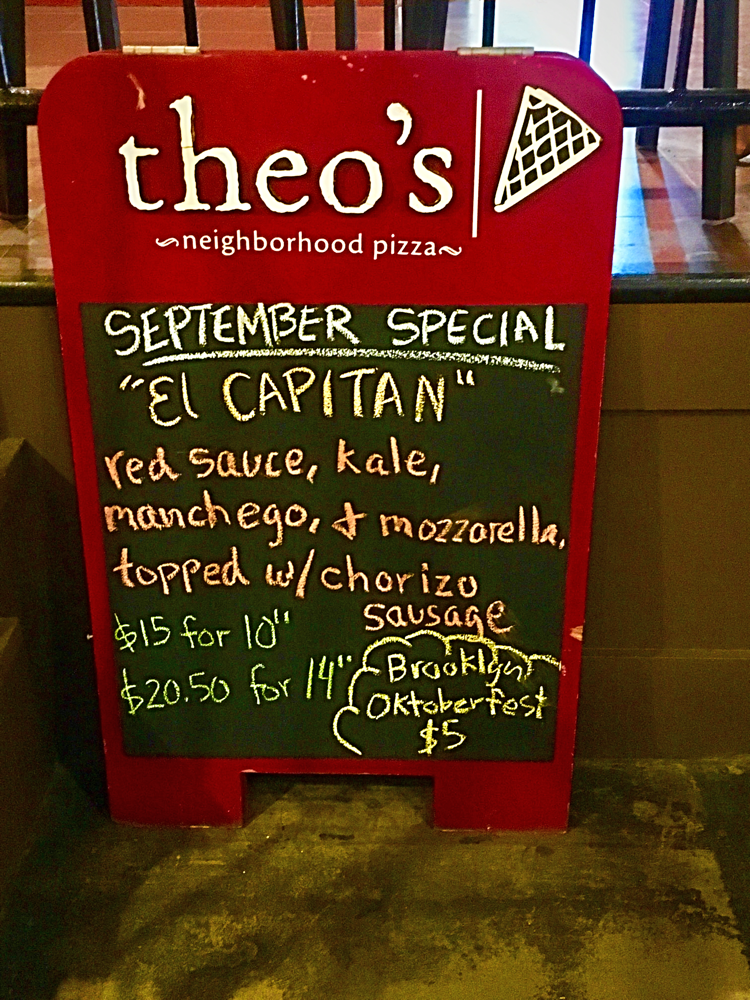 We opted for a traditional 18 inch DOUBLE pepperoni pizza, extra cheese. The slices were huge, with extra meaty pepperoni covering most of the melted mozerella.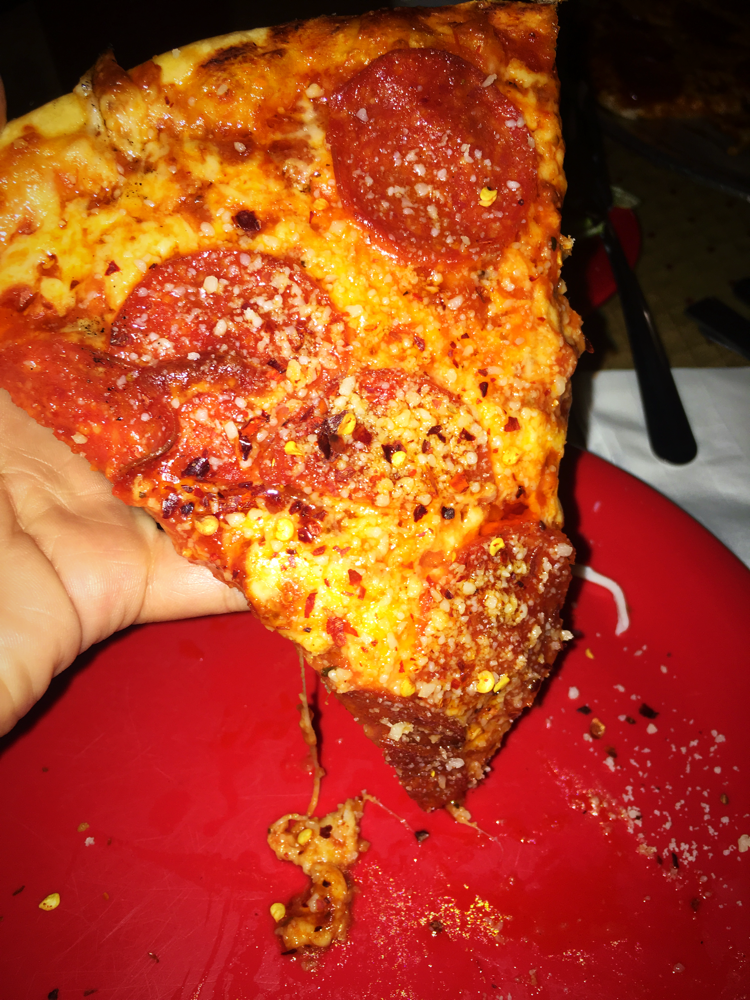 We loved this pizza overall but it was a little too greasy, even for us. The sauce was spicy, but sweet and infused with oregano. Bottom line is that this a cool funky neighborhood pizza spot thatwon't disappoint and is sure to hit the spot for your pizza munchies.
You're welcome.
Xoxoxo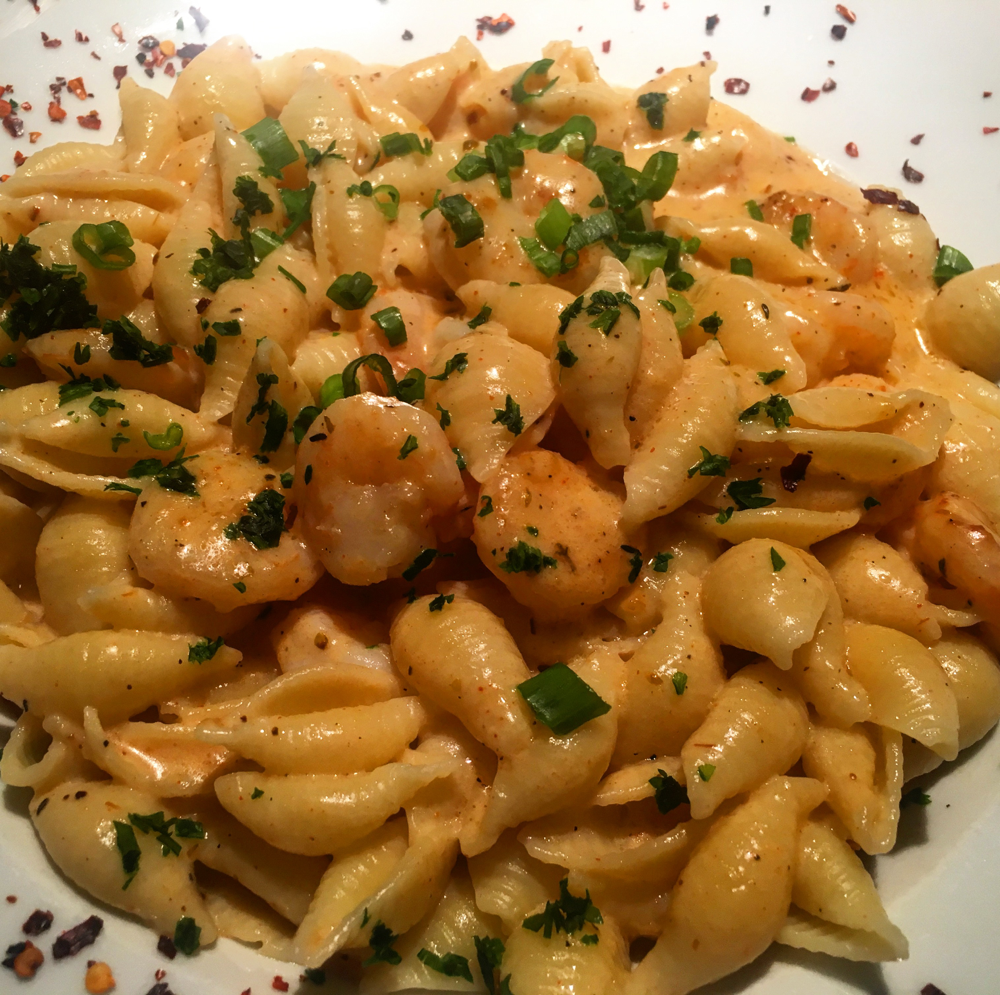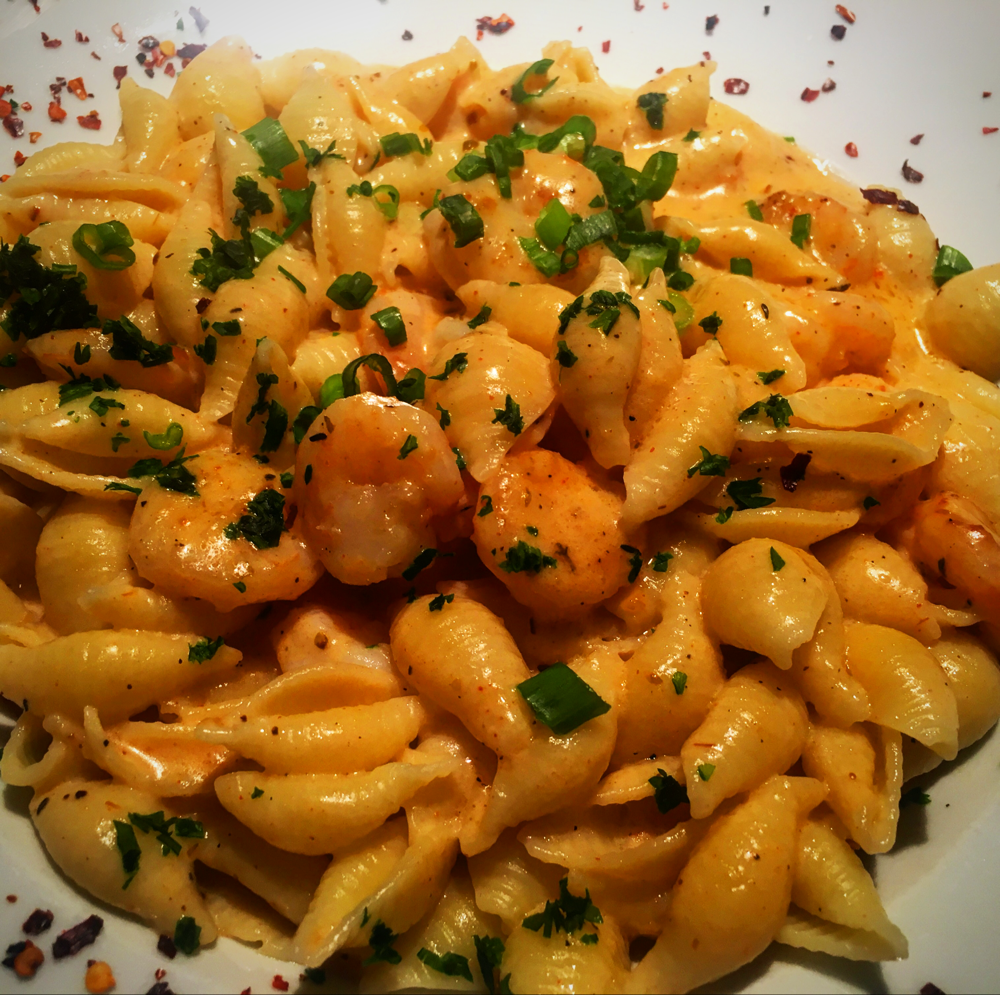 This tasty creation is a part of the "Pasta Lab" at Semolina. We chose the Roban sauce, which is a spicy red pepper based Alfredo sauce garnished with green onion. The gulf shrimp we added in were plump and plentiful and clearly supplied from a local source based off of the freshness. The extra spicy seasoning blend packed the perfect punch while letting us decide just how "hot" we wanted things to get. We opted for super hot, and it was so good that it left us crying for more. 
Visit Semolina at 4436 Veterans Blvd. in Metairie, LA.